[Montagsfrage] Welche 5 Bücher stehen ganz oben auf deiner Wunschliste?
Puh diese Woche erwischt mich die Montagsfrage von Libromanie eiskalt. Aber was solls. Es dürfen ja keine Fortsetzungen sein, also darf ich meine größten Herzenswünsche nicht nennen :(
Aber für Einzelbände oder erste Bände sehe die Wunschliste wohl so aus: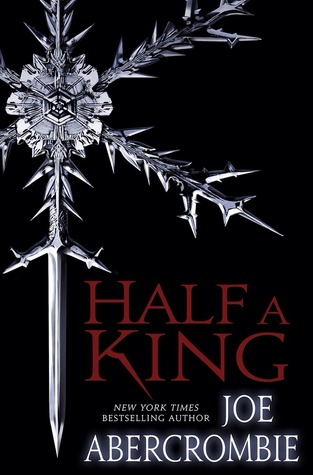 Prince Yarvi has vowed to regain a throne he never wanted. But first he must survive cruelty, chains, and the bitter waters of the Shattered Sea. And he must do it all with only one good hand.
The deceived will become the deceiver.
Born a weakling in the eyes of his father, Yarvi is alone in a world where a strong arm and a cold heart rule. He cannot grip a shield or swing an axe, so he must sharpen his mind to a deadly edge.
The betrayed will become the betrayer.
Gathering a strange fellowship of the outcast and the lost, he finds they can do more to help him become the man he needs to be than any court of nobles could.
Will the usurped become the usurper?
But even with loyal friends at his side, Yarvi finds his path may end as it began—in twists, and traps, and tragedy
Ich bin gespannt was Joe Abercrombie aus einem YA-Buch macht. Ansonsten kann es gar nicht schnell genug Juni werden :D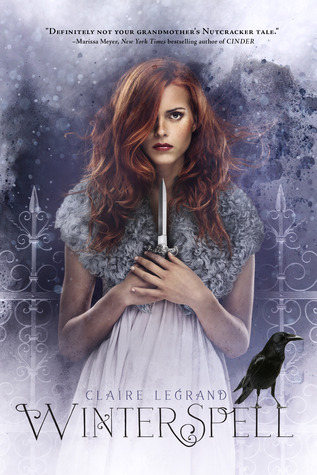 The clock chimes midnight, a curse breaks, and a girl meets a prince . . . but what follows is not all sweetness and sugarplums.
New York City, 1899. Clara Stole, the mayor's ever-proper daughter, leads a double life. Since her mother's murder, she has secretly trained in self-defense with the mysterious Drosselmeyer.
Then, on Christmas Eve, disaster strikes.
Her home is destroyed, her father abducted--by beings distinctly not human. To find him, Clara journeys to the war-ravaged land of Cane. Her only companion is the dethroned prince Nicholas, bound by a wicked curse. If they're to survive, Clara has no choice but to trust him, but his haunted eyes burn with secrets--and a need she can't define. With the dangerous, seductive faery queen Anise hunting them, Clara soon realizes she won't leave Cane unscathed--if she leaves at all.
Inspired by The Nutcracker, Winterspell is a dark, timeless fairy tale about love and war, longing and loneliness, and a girl who must learn to live without fear
Bin ein riesen Fan vom Nussknacker, und das klingt doch wirklich nach etwas, was man lesen muss.
Heloise and Abelard, the original "star-crossed" lovers -- before Romeo & Juliet – dare to live, and love, on their own terms in 12th-century Paris, then lose all in one tragic stroke.
He is the most famous philosopher in the world, the arrogant headmaster of the Notre Dame Cloister School, and a poet whose songs and good looks make women swoon. She is Paris's most brilliant young scholar, beautiful and wry, and his student. Forbidden by the church and society to love each other, Heloise and Abelard defy the rules to follow their hearts, risking everything that matters to them — including each other. An illicit child, a secret marriage, an abusive uncle: nothing, it seems, can come between them — until a vicious attack tears them apart forever. Or does it?
Vielleicht klingt das jetzt krass und makaber, aber ich war an ihrem Grab in Paris und ich steh auf diese Geschichte, wie nicht mehr sauber. GUT das Cover ist total die Entäuschung, aber ich hoffe auf einen guten Inhalt. TEAM ABELARD!

A TALE OF SORCERY AND PASSION IN SEVENTEENTH-CENTURY LONDON—WHERE WITCHES HAUNT WILLIAM SHAKESPEARE AND HIS DARK LADY, THE PLAYWRIGHT'S MUSE AND ONE TRUE LOVE
The daughter of a Venetian musician, Aemilia Bassano came of age in Queen Elizabeth's royal court. The Queen's favorite, she develops a love of poetry and learning, maturing into a young woman known not only for her beauty but also her sharp mind and quick tongue. Aemilia becomes the mistress of Lord Hunsdon, but her position is precarious. Then she crosses paths with an impetuous playwright named William Shakespeare and begins an impassioned but ill-fated affair.
A decade later, the Queen is dead, and Aemilia Bassano is now Aemilia Lanyer, fallen from favor and married to a fool. Like the rest of London, she fears the plague. And when her young son Henry takes ill, Aemilia resolves to do anything to save him, even if it means seeking help from her estranged lover, Will—or worse, making a pact with the Devil himself.
Hey ... ich lese Shakespeare und das Buch ist gekauft :D
In 1875, Sisi, the Empress of Austria is the woman that every man desires and every woman envies.

Beautiful, athletic and intelligent, Sisi has everything - except happiness. Bored with the stultifying etiquette of the Hapsburg Court and her dutiful but unexciting husband, Franz Joseph, Sisi comes to England to hunt. She comes looking for excitement and she finds it in the dashing form of Captain Bay Middleton, the only man in Europe who can outride her. Ten years younger than her and engaged to the rich and devoted Charlotte, Bay has everything to lose by falling for a woman who can never be his. But Bay and the Empress are as reckless as each other, and their mutual attraction is a force that cannot be denied.

Full of passion and drama, THE FORTUNE HUNTER tells the true story of a nineteenth century Queen of Hearts and a cavalry captain, and the struggle between love and duty
Ich mag zwar Sisi net, aber ich wollte EWIG ein Buch über sie lesen. Hier ist meine Chance ...
So und jetzt sollen die Damen in meiner Buchhandlung nochmal behaupten, es gäbe nur Histos über Wanderhuren, Hebammen und Hexen ;) das stimmt nämlich ganz und gar nicht!